Since its foundation in 2001 community4you AG has established itself as a successful global software manufacturer for the marketing, development and implementation of future-proof enterprise software. With its award-winning comm.fleet product line for fleet and leasing management, community4you AG has quickly advanced to European market leader.



We believe: Innovation is not a coincidence, but a question of attitude. At community4you we have been going our own way since the company was founded. All our software products are based on our self-developed open-EIS integration platform. This basis enables us to set new standards in terms of functionality, performance, customizing and security to this day. We constantly invest in the sustainability of our products. In doing so, we aim to be a top innovator.
Management
Responsibility and transparency define our business. The competent and forward-looking board of directors at community4you AG is characterised by a balanced management structure and clearly defined regulations in the area of business management and compliance: This is a guarantee for the positive growth of the company founded in 2001.
Historical Background
It all began with an entrepreneurial spirit and a fascination for innovative technologies. Meanwhile, community4you has established itself successfully both nationally and internationally. The chronology of the main milestones of our company history demonstrates the impressive evolution of our company:
Villa Hahn
The "Villa Hahn" is one of the most historical villas in the Kapellenberg district of Chemnitz, previously known as the "Stollberger Viertel", surrounded by a beautiful park lot. This magnificent building with its harmonious symmetry impresses and combines the businesslike architectural style coming together with the traditional style of Neo-Classicism. Looking at the villa from behind reveals the unique beauty of its past.
History and Renovation
An architectural gem shines in new splendor
The villa in Haendelstrasse 9 has a rich history behind it. In 1923 the architect Eugen Weber designed and built it for Erich Barth, the manufacturer of circular knitting machines.

From 1934 to 1945 the villa was owned by Auto Union AG and belonged to the Hahn family, with Prof. Dr. Carl Hahn later on becoming the Chairman of Volkswagen AG. After the Second World War the building was severely damaged and left empty for many years.

In 1949 it became the property of the GDR and was exposed to insidious decay. In August 2003, the owners of community4you AG purchased this dilapidated property. In cooperation with the Saxony State Office for the Preservation of Monuments, a professional restoration was carried out over a year, in which special emphasis was placed on the preservation of all original interior parts. After the professional renovation of the outer facade, the historical look of the building came out in a new aesthetic.
community4you AG moved to this the cultural heritage villa in October 2004. Thanks to landscaping efforts in the outside area and the restoration of the impressive fountain, the villa and its garden look as a stylish ensemble.With the restoration of the villa, a great amount was invested for the retention of the historical parts of this building in Chemnitz. Today's "Villa Hahn" has become a showpiece with its
own website
,
Facebook
and
Wikipedia
.
Prof. Dr. Carl Hahn
Eponym of the Villa Hahn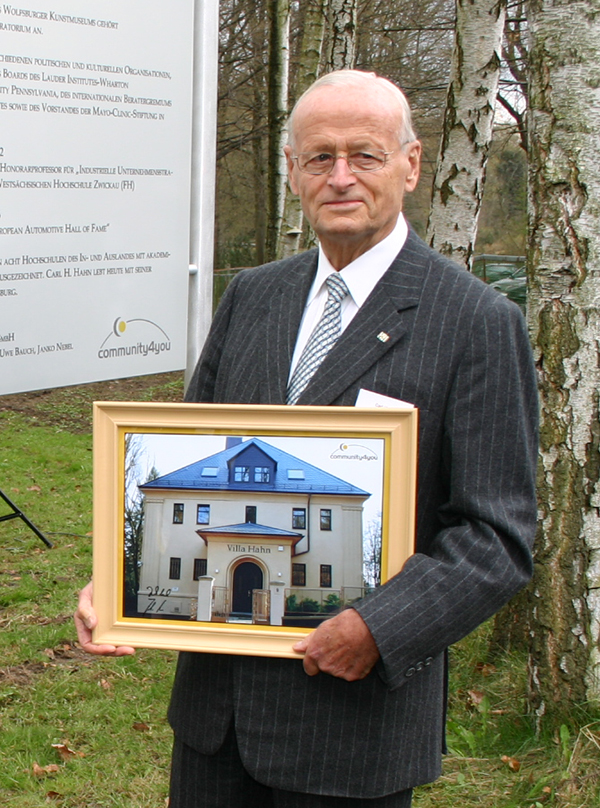 On April 2, 2008, the villa building received the honourable name "Villa Hahn", named after the European industrial manager Prof. Dr. Carl H. Hahn, in a celebratory ceremony.

Prof. Dr. Carl H. Hahn has spent half a century as an automotive manager helping to shape the history of Volkswagen as Europe's largest automotive group and is therefore a pioneer of globalisation. His name is a great tribute to the villa in which he spent most of his childhood and youth.

A special highlight took place on 24 June 2014 with the official uncovering of a sandstone sculpture with the portrait of Prof. Dr. Carl Hahn. Lots of guests from Saxony's economists and politicians came together to honour Prof. Hahn for his life's work.

On 10 October 2014, Prof. Dr. Carl H. Hahn was a guest at the Sunday talk of SACHSEN FERNSEHEN and spoke about inspiring and exciting topics of his life.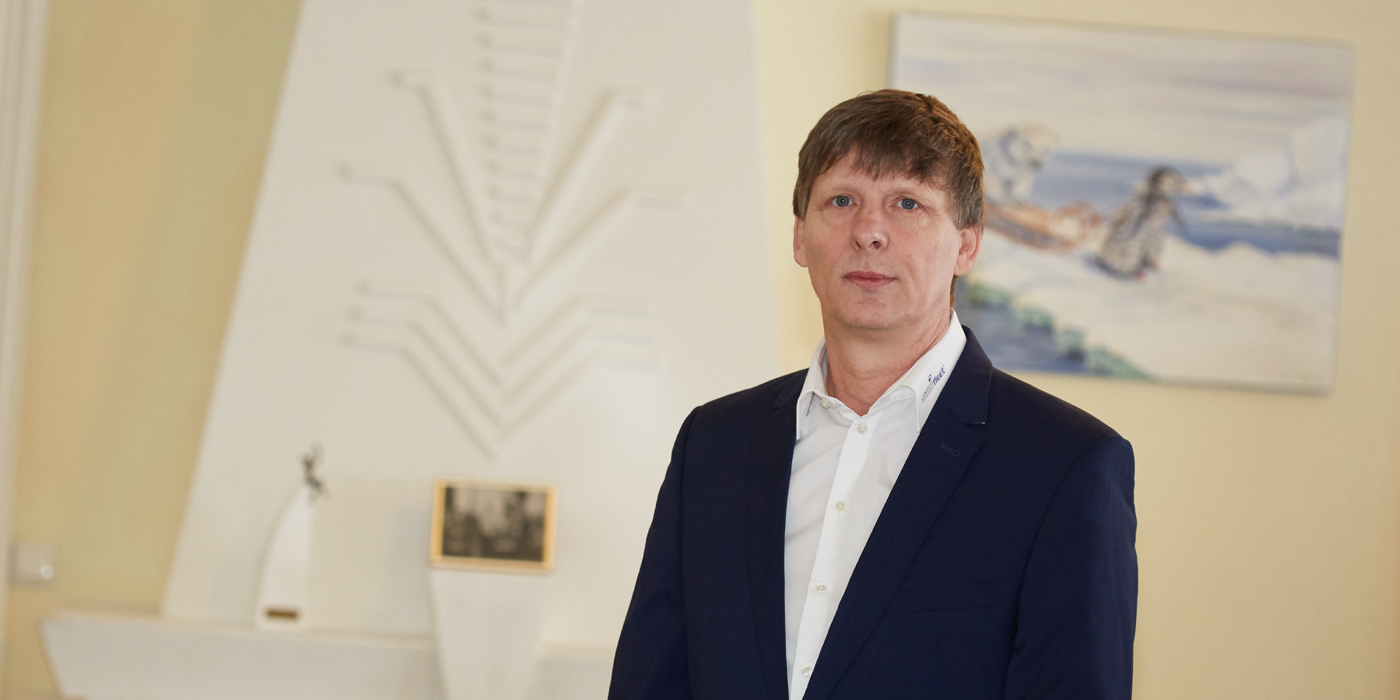 Prof. Carl H. Hahn is and will always be a part of Volkswagen. Over half a century, with an innovative sense of development and professional skill, he played a major role in VW's development to become the world's largest automotive group. After the fall of communism, he brought the automotive industry back to Saxony and thereby created thousands of jobs. All this shows us that Prof. Hahn has always upheld his political and ethical responsibilities. A European industrial manager like him is therefore a role model, both for us and for future generations of entrepreneurs. It is very important to us to give appropriate honour to Prof. Hahn's enormous economic and social commitment.
Sponsoring
Sponsoring is an important part of a company's public relations and social responsibility. The encouragement of young talents, a team or an association results in close ties, common hopes and great goals that have a positive effect on all those who involved.
Partners
The permanent and trusting cooperation between our partners and us results in synergies in which all benefit.